By Richard A. Dowlat, M.A. - Claremont Graduate University
In January 2018, fellow contributing author to ScienceofRelationships.com Dr. Sadie Leder-Elder wrote about the power of proximity – a predominant and very influential factor in building interpersonal attraction. Dr. Leder-Elder's article talked about how simply being near people can build liking for them, and not just romantic liking but platonic camaraderie as well (think of roommates as an example). Expanding even further, this phenomenon is not just limited to people; simply being around something for repeated periods of time can build an attachment to that thing, an occurrence termed the "mere exposure effect".1
Richard Dowlat
|
February 27, 2018
in
Hot Topics
|
tagged
attraction,
online dating,
proximity
In September of 2017, Melania Trump gave a speech to the United Nations in which she spoke out against the harms caused by individuals who engage in cyberbullying, or "intentional aggressive behavior that is carried out repeatedly, occurs between a perpetrator and victim who are unequal in power, and occurs through electronic technologies".1 Few could argue with her urging of the world's leaders to focus on this issue; the media is ripe with gut-wrenching stories of young (and old) people whose lives have been devastated by digital bullies.
Science of Relationships
|
February 22, 2018
By Jennifer Harman Ph.D. - Colorado State University
Adventures in Blending: Memoirs of Mixing Families
Before launching back into a blog about being a (step)parent in a blended family, it is important to first describe how and why we became that way. I will start with our decision to move in together, something I wrote a little about a few years ago. I neglected to share, however, just how we came to the decision, which was not an easy one to make.
Dr. Jennifer Jill Harman
|
February 20, 2018
By Jennifer Harman Ph.D. - Colorado State University
Adventures in Blending: Memoirs of Mixing Families
A few years ago, I shared my ups and downs of the dating scene in my blog Adventures in Dating: Memoirs of a Single Mom. Although dating is not necessarily a novel blog topic, I wrote about it from the perspective of a single mom. I also wrote about dating from the perspective of a researcher who studies and thinks about relationships all the time. For those who know me well, they know that I am constantly quoting empirical studies and psychological theories to explain why different things happen in relationships. Trust me, it's endearing.
Dr. Jennifer Jill Harman
|
February 19, 2018
By Gary W. Lewandowski Jr. Ph.D. - Monmouth University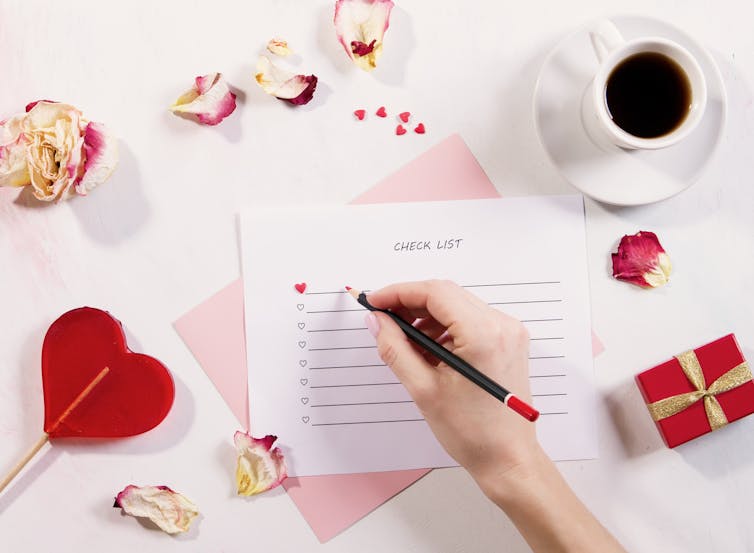 Relationship science can weigh in on whether you're with a winner. Gary W. Lewandowski Jr., Monmouth University
Decisions are a part of life. At various times you may need to choose the best vacation spot, job candidate, babysitter, or place to live. Your most important decision may be figuring out your best romantic partner. Relationships matter – a lot. They have implications for your health, your reactions to stress and even how you look at the world.
But how can you determine if your current romantic partner is the best of the best for you? It's hard to know what factors truly matter, what you should not overvalue, or what is best to ignore entirely.
Dr. Gary Lewandowski
|
February 9, 2018
By

Richard A. Dowlat, M.A.

-

Claremont Graduate University
Photo Credit: englishwithasmile.orgImagine the following scenario: you are standing in the supermarket looking at a box of cereal in your left hand, and then another box in your right. Your gaze pans up to the shelves in front of you with a seemingly unsurmountable number of other cereal choices. One has the flakes you like, but another one is healthier for you. Another is on sale. And another choice, and another, and another. Frustrated, overwhelmed, and inundated, you stop thinking about it, throw any random one in your cart, and move on. Or maybe you don't choose any at all.
This occurrence is not uncommon, nor is it limited to food.
Richard Dowlat
|
February 7, 2018
in
Hot Topics
|
tagged
alternatives,
online dating,
paradox of choice
It appears that Selena Gomez and Justin Beiber may be back together, and this time it may be even more serious than before. Although their previous relationship volatility makes me suspect, I have to say, who hasn't rekindled (or gotten back together with an ex)? In case you, like these lovebirds, find yourself in an on-again/off-again relationship there are a few things you should know.
Dr. Sadie Leder-Elder
|
January 31, 2018
Have you ever dated someone you worked with? How about someone you lived near? If so, you are already aware of the power of proximity. For more than fifty years relationship researchers have consistently found that one of the most powerful predictors of attraction is proximity (being physically close ).1 Sure, love is a mystical and mysterious thing, but it just so happens to occur more often between people who are closer together (in actual inches, feet, and miles)!
Dr. Sadie Leder-Elder
|
January 24, 2018
in
Hot Topics
|
tagged
attraction,
falling in love,
proximity
A few years back I wrote a post about one of my favorite laws of attraction, implicit egotism (see here for more). Although you may never have heard it by name, the chances are you or someone you know have demonstrated this phenomenon.
Dr. Sadie Leder-Elder
|
January 15, 2018
in
Hot Topics
|
tagged
implicit egoism,
love,
marriage
It's that time of year again. Everyone I know is joining a gym, beginning a diet, and trying to start anew for the New Year. This year I've decided to do things a little differently. Instead of my typical New Year's resolutions, which focus on work and personal goals, I'm writing relationship resolutions. Here are a few relationship enhancing behaviors that I'm going to work on in the coming weeks and months. Feel free to join me if you'd like to make your romantic relationship a happier, healthier union.
1. Be more positive
There are a host of reasons why positivity beats out negativity. Not only is positivity more attractive than pessimism or cynicism,1 it's also a winning strategy for navigating relationship conflict. Interestingly, relationship researchers found that people are particularly sensitive to negative feedback and that couples who engage in a 5:1 ratio of positive to negative comments are more likely to stay together.2 I take this to mean that a little negativity goes a long way, and sometimes even an unintentional slight or criticism can have a powerful impact. I vow to try to be more positive, generally, but particularly when things get heated.
Dr. Sadie Leder-Elder
|
December 29, 2017
in
Hot Topics
|
tagged
communication,
conflict,
list,
new years eve,
self-expansion,
tips
Science of Relationships
|
December 13, 2017
in
Hot Topics,
Reader Favorites
|
tagged
facebook,
infographic
The issue: People have a need to feel autonomous (i.e., they need to feel like they are doing something because they want to and not because someone forced them to).1 When people are dominant, they try to take control of the situation, which may make others feel less autonomous.2 Feeling controlled can be disheartening and is linked to poor well-being.3 And people who have dominant partners tend to be unhappy in the relationship (i.e., have lower relationship satisfaction).4 In an article published in the Journal of Social and Personal Relationships, researchers wanted to understand why having a dominant partner is linked to lower relationship satisfaction.2 (Click here for the full article)
Dr. Lisa Hoplock
|
December 8, 2017
in
Research Spotlight
|
tagged
autonomy,
dominance,
power,
satisfaction,
well-being
It's the end of a long day, you've had a goal to exercise a few times a week, and you're trying to decide if you're going to go for a run tonight. You're in a romantic relationship and you think about how your romantic partner made you a healthy dinner last night. Do you a) decide not to go for the run or b) go for the run? It may seem that 'a' is the obvious choice, but the research is actually mixed.
Dr. Lisa Hoplock
|
November 28, 2017
in
Research Spotlight
|
tagged
goals,
support
If you have seen an action movie in the last two decades (Speed, Mission: Impossible, Jurassic World, Matt Damon as Jason Bourne, any James Bond film) then you know that if two conventionally attractive strangers live through a life-or-death experience together, they are incredibly likely to develop a romance. That's also the premise of the new Idris Elba and Kate Winslet film, The Mountain Between Us, in which the two Hollywood stars are stranded in a remote wilderness following a plane crash. It's also the premise of the film's promotional campaign, which has included commissioning articles quoting psychologists on the various reasons this kind of action movie romance is totally plausible. These films are occasionally echoed by real-life examples of post-disaster romance, as with the "Miracle on the Hudson" Flight 1549 survivors who met after the crash and soon married.
Science of Relationships
|
November 17, 2017
in
Hot Topics
|
tagged
misattribution,
ptsd,
stress,
trauma
A wise man (with amazing hair) once crooned "don't know what you've got till it's gone". The statement's intended interpretation is that we often take for granted the positive characteristics of our romantic partners up until the moment the relationship is lost.
But is it possible that there are some things we do know we have before we've lost them, and that we go out of our way to hang on tight? In a recent study published in the Journal of Social and Personal Relationships, Joshua Oltmanns, Patrick Markey, and Juliana French hypothesized just that. Specifically, they argued that people in relationships are especially in tune how their own physical attractiveness stacks up relative to their partner.1 And when an individual perceives their partner is the relatively more attractive one, they will do things, subtly and not so subtly, to keep their hotter partner all to themselves.
Science of Relationships
|
November 10, 2017
Getting romantically involved with a coworker is not uncommon; it's estimated that nearly 10 million workplace romances start each year, and about half of all white-collar workers have been involved in a workplace romance at some point during their careers.1 Among these workplace romances, nearly a third involve relationships between an employee and a coworker with higher status in the organization.1 Although these status differences may result in problematic power dynamics within the relationship, it's also reasonable to assume dating one's boss leads to more career opportunities (e.g., benefits of favoritism). At the same time, however, people with knowledge of the workplace tryst might think less favorably of those who become romantically involved with their bosses, resenting them for appearing to use that relationship to advance their careers.
Across two studies1 published in the Journal of Social and Personal Relationships, Suzanne Chan-Serafin and her colleagues investigated the effects of subordinate-boss workplace relationships on individuals' career development. The researchers hypothesized that those who are romantically-involved with a superior at work would receive fewer opportunities for training and promotion by third-party evaluators.
Dr. Benjamin Le
|
November 3, 2017
Television often gets a bad rap. If your mom was anything like mine, she often warned that if you sat too long in front of the TV it would "rot your brain." TV's potential for brain degradation aside, because watching TV is enjoyable, it feels natural to assume there is a catch. Something we clearly like so much must have detrimental effects, including hurting your relationship, right? Not so fast. A recent article from the Journal of Personal and Social Relationships challenges that assumption and tests whether watching TV with your partner could actually improve your relationship.
Dr. Gary Lewandowski
|
October 27, 2017
in
Research Spotlight
|
tagged
media,
relationship quality,
shared experience,
television
One of my colleagues has a coffee mug that I think summarizes the whole genes vs. environment debate pretty well: "Nature or nurture, either way it's your parents' fault." Cheeky coffee mugs aside, one of the enduring legacies that our parents give us is their DNA. We know that genes influence all sorts of outcomes—how tall we are, how much we weigh, the color of our eyes, and our likelihood of developing certain diseases and disorders. But, it was only about 25 years ago that researchers started to look at the influence of this genetic blueprint on our relationship outcomes.
Science of Relationships
|
October 20, 2017
in
Hot Topics
|
tagged
divorce,
dna,
genes,
genetics
A recent discussion in my Psychology of Close Relationships class probed the topic of how relationships transition from hot and heavy to more comfortable and emotionally intimate. As you can imagine, this isn't always welcome news to an undergraduate and the discussion quickly turned to how to avoid this relationship rite of passage.
First and foremost, it's important to understand that this transition is totally normal and has to do with the diminishing amount of novelty and excitement in the relationship. One way to stave off this transition is by adding novelty back into your partnership. Researchers have examined this phenomenon from a self-expansion standpoint and claim that people have an innate drive to grow, learn, and expand.
Dr. Sadie Leder-Elder
|
October 13, 2017
in
Hot Topics
|
tagged
dating,
novelty,
self-expansion
America is a country of romantics: we love our reality dating shows, rom-coms, and Disney princess movies. Romantic beliefs, like the ideas of love at first sight, "love will overcome all obstacles," and "happily ever after" are pervasive in our culture. Have you ever wondered whether these idealized beliefs regarding romanticism hurt relationships? The argument that they are harmful goes like this: (1) high romanticism leads to high expectations for your relationships: that you should never fight with your partner, that they will never let you down, and that you will always have amazing sex together. Sounds great, right? The problem is that with such lofty ideal standards for your relationship, (2) you've set yourself up to fail because these unrealistic expectations are, well, unrealistic. With such high expectations, your partner and relationship will surely let you down, and (3) this disappointment should cause you to be dissatisfied. But is this 3-step plan to dissatisfaction supported by the data?
Dr. Benjamin Le
|
October 6, 2017